Patient Feedback
Please see below feedback from a recent Patient Survey:
Question: How likely are you to recommend the dental services of West End Manse Dental Care?
Results in April 2018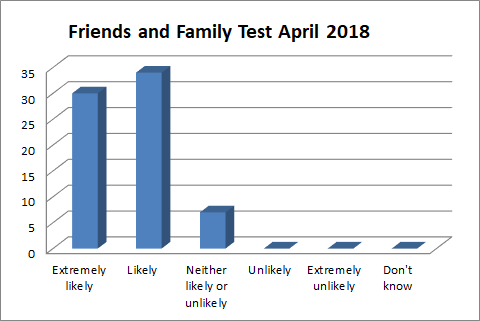 What our Patients put as Comments in April:
Please tell us the main reason for selecting your statement:
"My previous experiences have been fine, very professional service"
"Quick booking when crown needed replacing, very well mannered and happy staff. In all a very good practice"
"I am very satisfied with the treatment that I receive"
"Take their time, always explaining what they are doing, don't rush you"
"The dentist provided good advice which we took"
"Everything is explained and very caring"
"The practice is very clean, tidy and the staff are very friendly. All my family have been coming in and continue to do so"
"Nice dentist, good standard of care"
"Always get good attention and treatment"
"Always been pleased with work done"
"Friendly, helpful and reliable"
CQC Inspection Report
Please click below to view our latest CQC Inspection Report for West End Manse Dental Care: